Les chiots sont arrivés le 3 décembre (fin 2018) 3 femelles et 5 mâles /Puppies arrived on December 3rd, 3 females and 5 males
GCHS Diamonds Cactus Cash
GCHS Diamonds Cactus Cash
Cash est un Grand Champion Argent aux États-Unis. Il a été le numéro 1 Wheaten aux États-Unis jusqu'à la mi décembre en 2013. Il a gagné trois années de suite la race à la Nationale télévisé tenue par le Philadelphia Kennel Club. En 2012, il a aussi fait la troisième position de groupe à cette compétition, tout un exploit étant donné le nombre de Terriers inscrits à cette compétition. En mai 2016, notre beau Cash a fait rien de moins qu'un Meilleur de l'Exposition ainsi qu'un Meilleur Réserve de l'Exposition lors d'un seul weekend aux États-Unis. Il a terminé son Championnat Américain à 9 mois avec des sorties limitées et a complété son Grand Championnat à l'âge de 13 mois. Il possède un magnifique Pedigree de Champions et Grand Champions, tous en santé. Il est un chien parfait, gentil avec les gens, cajoleur, sa maitresse n'a que de beaux commentaires sur son Cash, il est un amour de chien. 
GCHS Diamonds Cactus Cash
Cash is a Grand Champion Silver in USA. He was the number One Wheaten in the United States up to mid December for the year 2013. He took Best of Breed three years in the row at the prestigious Philadelphia Kennel Club(National Dog Show) in 2012, 2013 and 2014. In 2012, he also took Third place in the Terrier Group at that show, very impressive as all terriers were pretty much all handled by professional handlers (Cash was handled by his owner) and the number of terriers registered at that show was huge. He is carrying a very strong Pedigree of healthy Champions and Grand Champions. He has a nice temper with human, very cuddly, he is definitely mom's boy.
Cash Health tests/Tests de santé:
Eyes/Yeux: OFA Normal WHT-EYE13/29M-PI
Hips/Hanches: OFA Fair WHT-5737F25M-VPI
DNA Profile/Profile ADN: V664021
Blood tests & Blood proteins tests/Tests sanguins: normal IDEXX 116414945 (Dec 2018)
Urine Tests/Tests d'urine: Normal IDEXX 116414945 (Dec 2018)
Brucellosis/Brucellose: Negative (Dec 2018)
GCH CH Soft Dog City Inaïa-Stella
Session Photos Stéphanie Lafond 4 1/2 semaines/Photoshoot 4 weeks and a half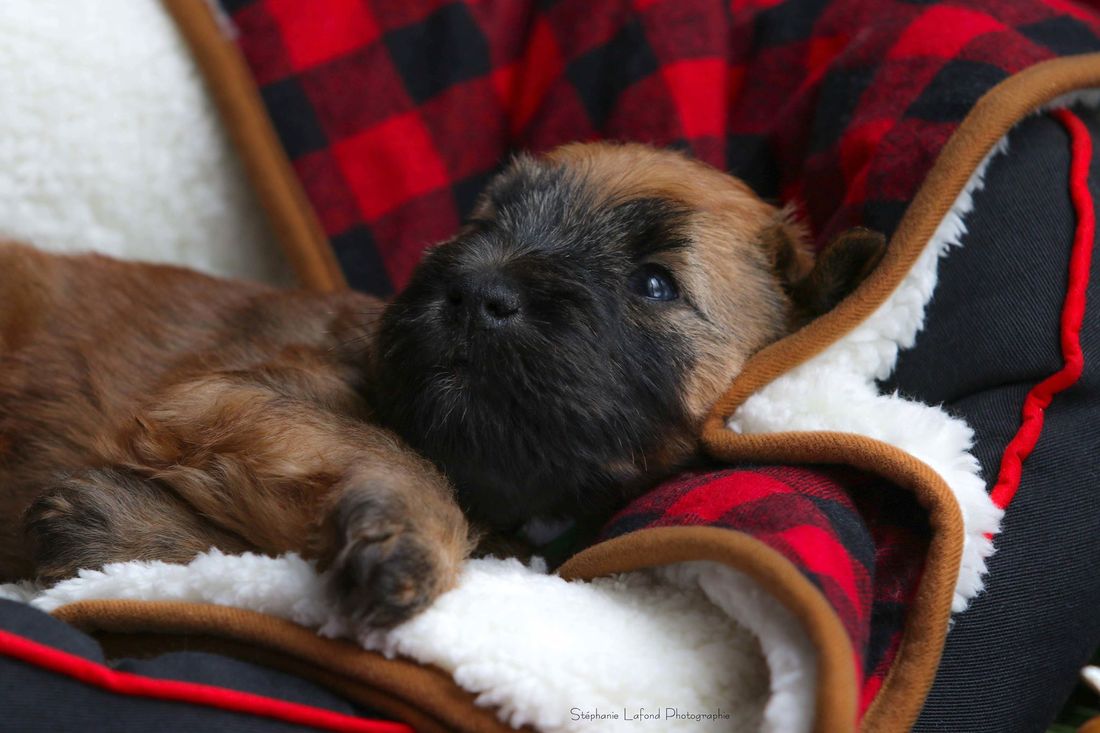 Share photo gallery